What Are Advance Health Care Directives And Do You Need One?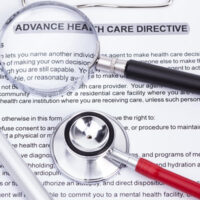 There are times during life when we are not able to make our own health care decisions. Sometimes, the condition is temporary, such as if you are unconscious after a bad accident. Other times, it is permanent, such as falling into a vegetative state because of illness or disease. Either way, while you are in such a condition, someone else will have to make decisions or take care of your affairs for you.
Health Care Directives Can Help
The solution is to make sure you have a well thought out advance health care directive. This is a document that does two important things. First, it designates someone to make important decisions about your medical care in treatment in the event you can't do it for yourself.
Secondly, it gives general information about the kind of medical care that you want and that you don't want, which your medical providers have to follow.
The person making decisions for you is often a family member, but can also be a relative or a friend. Your agent (the person you designate to make your medical decisions) cannot be your doctor. Whomever you choose, make sure they are rational, have your best interest at heart, are willing to spend the time needed to understand your condition, and make smart decisions about your treatment. You don't have to name a California resident, but it's a good idea to name someone relatively close by.
What are Living Wills?
Living wills are documents that simply dictate what kind of treatment that you want, in the event you can't make that decision by yourself. Often, living wills simply say that you want to be resuscitated (or not), or whether or not you want life support or not.
As you can imagine, living wills are much more limited—they cannot change, or consider current medical conditions, or take into account advice from multiple doctors, the way an actual designated human being can, which is why an advance health care directive is now used much more often than just a stagnant, static living will.
Call the Torrance estate planning attorneys at Samuel Ford Law today for help drafting a complete estate plan, with all the documents that you need to plan for the future.
Source:
oag.ca.gov/consumers/general/care