What Happens To Our Assets When We Die If We Haven't Made Proper Plans In California?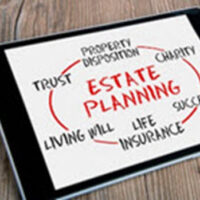 If you haven't made a proper estate plan in California, the government has made one for you.  California law has a plan. When you die without a will, you've died intestate and there are default rules in place as to what happens. In general, there is a hierarchy of people who will inherit your assets.  If you die with a spouse, the spouse is entitled to some, then children. There is a percentage split between a spouse and children, depending on the number of children you have.
If you don't have a plan in place, your estate will most likely go through probate.  If you leave property worth more than $166,250, your assets must go through probate, which is the court process overseen by a judge in a California probate court to manage your estate and transfer your assets to your heirs. Your estate will need to pay court fees, probate costs, and administrative fees to your executor and their attorney. This will take time and significantly delay the distribution of your assets to your heirs. Probate takes around a year and a half to complete, even for relatively simple estates.
What Should Be the Ultimate Goal of a Proper Estate Plan in California?
The ultimate goal is to be sure that your assets are managed and distributed exactly how you want and that it happens as efficiently in time and in cost as possible. If you are unsure of exactly how you would like your estate plan to look, an estate planning attorney will guide you through that process. Another goal of estate planning is to keep down costs and avoid unnecessary taxes so that as much as your money goes to your heirs as possible.
Your attorney will take care of the tax planning and cost efficiency part of the estate plan. You and your attorney will have a few conversations so that the attorney can determine your options and how best to keep the most assets for the client's heirs. For most people estate taxes will not be an issue unless they have assets worth more than $11.7 million. Though that number may change in the near future. The bulk of the planning will be making sure that all loved ones are taken care of and that your estate gets distributed in a way that effectively carries out your wishes.
For more information on Estate Planning in California, an initial consultation is your next best step. Get the information and legal answers you are seeking by calling 310-755-0383 today.