What Is A Transfer On Death Deed?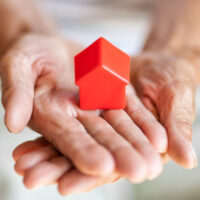 Let's say that you own real property, and you want to make sure that the property transfers to someone else, as quickly as possible, and without going through the court probate process when you pass. Is there a way to do that?
There is. It's called a transfer on death deed, and although it has some limitations it can be an efficient way to make sure that real property goes to whoever you want to leave it to.
What is a Transfer on Death Deed?
As the name implies, a transfer on death deed ensures that property transfers to whoever you designate, upon your passing. Because the transfer is automatic, it bypasses the probate process. It is especially effective if someone's main or sole asset is a home or real property; in some cases, the transfer on death deed may be all that's needed for your estate plan.
Don't worry—the deed is not effective while you are still alive, and you are always free to sell or lien the property, or even revoke the deed completely. The person you're leaving the property to, has absolutely no rights to the property until your death.
Limitations and Concerns
There are some limitations on property that can be transferred this way. Only single family homes, condos, or units of no more than 4 residences in it, can be transferred by the deed. The deed needs to be notarized and must be recorded within 60 days of it being signed (a step that many people who try to do their estates themselves, will likely overlook).
One concern with a transfer on death deed, is that if the person you are transferring the property to passes before you do, the deed is void—that means the property will be subject to being probated (unless you amend the deed or file a new one). If you become incapacitated to the point that you are unable to alter the deed, this could be a problem.
Leaving Property to Minors & Spouses
If you are leaving property to a minor, you could have a problem assuming the minor inherits the property while still a minor. If you are leaving property to a minor, it may be best just to do it in the form of a trust. You could appoint a custodian to watch over the property after the minor inherits—but that would entail having a separate estate document that establishes this, to go along with the transfer on death deed.
Also bear in mind that if property is owned with a spouse, in the form of a tenancy in common, your interest in the property will automatically transfer to your spouse. The Transfer on death deed will not "override" or take precedence over the tenancy in common presumption (although there are other ways, through different estate documents, to override this presumption if this is what you want to do).
Call the Torrance will attorneys at Samuel Ford Law today to discuss your estate plan and how to best leave your assets to family and loved ones.
Sources:
leginfo.legislature.ca.gov/faces/billTextClient.xhtml?bill_id=202120220SB315
sjcbar.org/news-index/transfer-on-death-deeds-in-california