Estate Planning Checklist After A Divorce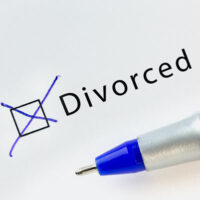 If you are going through a divorce, you probably think a lot about your immediate needs. Things like where you will live, who will care for the children, and division of assets may be first on your mind, as they should be. However, long term planning like estate planning tends to get put on the backburner during and after a divorce.
Here are some steps you should take with your estate plan, after your divorce—things that many people ignore, when the divorce is finalized.
Revoking the Will – Yes, you could just amend your will—but it is likely that the divorce has changed so much in the will, that it is better and "cleaner" to simply revoke the whole thing and start a new one. That includes not just altering who gets what, but also reviewing who the executor may be—many wills have spouses as executors, and that's not something you'll usually want after your divorce.
Update Healthcare Directives – You may already have a power of attorney, or health care directive or health care proxy, that appoints your (now ex) spouse as your caretaker or healthcare decision maker. That is also something you may want to change—although you certainly don't have to, if you still have a good relationship with your ex spouse.
Update Beneficiaries – You probably already know that your will or any trusts may need to be amended or completely changed. But other things have beneficiaries also, and you may want to change them. For example, payment on death accounts in the bank, or beneficiaries on insurance policies, all may still list your former spouse as the beneficiary. You may want to change those as well.
Guardianship Issues – If you pass, it is likely that a court will allow the child's other natural parent, to be the guardian of the child. Often, there is little that your estate documents can do to alter this—estate documents can't terminate someone else's natural and legal parental rights.
However, you certainly can express your wishes, and explain why you don't want your ex spouse to be the guardian of the children, if that is in fact your desire, in the event there is any question. You never know if a judge will look at those documents, when making a guardianship decision.
Look at Your Divorce Settlement Agreement – Your newly drafted or estate documents should confirm with, and not conflict with, your settlement agreement in your divorce. Make sure that your estate attorney has your divorce agreement, so that the ex spouse is left with exactly what he or she is entitled to, in order to avoid legal challenges.
Trusts – If your child will be in the custody of your ex when you pass, that doesn't mean your ex needs to have control of your assets as well. Consider a trust, which will only allow your minor child to inherit the property, or access the property, when the child becomes an adult, so as to keep your property from being controlled by an ex spouse.
Call the Torrance will attorneys at Samuel Ford Law today to discuss your estate plan before or after a divorce, or other life changes.
Source:
forbes.com/sites/christinefletcher/2018/06/19/8-estate-planning-moves-if-you-are-getting-divorced/?sh=103bc1036419