What Can An Advance Health Care Directive Do For You?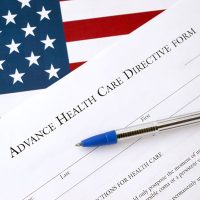 Estate planning isn't just about who will get your things when you pass away, or when you are incapacitated. It is also about your medical decisions, and who will make them for you, if you cannot make those decisions yourself. That's why including health care directives in your estate plan are so important.
Appointing Your Voice
An Advance Health  Care Directive allows you to appoint someone to be your voice, and the person who will speak for you in making medical decisions for you, if you aren't in a position to make them yourself. The person you appoint is sometimes called an "attorney-in fact," although they do not have to actually be an attorney..
Any adult can serve as your agent, and you can also appoint "backups," in case the person you wanted to serve, is unable to, or doesn't want to serve in that capacity.
Because these individuals could be making controversial medical decisions on your behalf, which other family members may not agree with, it is best to just appoint one person to be your agent at any one time, so that your medical providers aren't confused if there is disagreement over your care.
Although your chosen agent will have the ability to make any decisions about your care that you would have, if you were able to, you can limit the agent's authority in your Advance Health Care Directive, if you so choose.
Directions in Advance
Additionally, you can also dictate your medical care, in certain, given scenarios. For example, you could say that you do not wish to be resuscitated in certain situations, or that you do not want to receive certain kinds of medications, if they are an option for you.
Of course, you can do both of these things, and can have an attorney-in-fact who will make your health care decisions, but who is bound by your pre-determined wishes for your medical care and treatment.
Note that all of this is much more comprehensive than a typical living will, which would only say whether you want to be resuscitated or not in the event you are not expected to ever regain consciousness. You don't have to be terminally ill, or comatose, or in a vegetative state, for your advance health care directive to "kick in," you just need to be in a position where you are unable to make health care decisions for yourself.
Time to Make Changes
Note that in the past, your ability to make these kinds of medical decisions for yourself beforehand, and your ability to designate someone to make decisions for you if you are unable to, were much more limited. That means that if you already have a document that contains a health care directive, you may want to revisit your estate plan, to see if you can be more comprehensive, or more specific, than what your current estate documents say about your health care decisions.
Call the Torrance will attorneys at Samuel Ford Law today to discuss how your health care decisions will be made in your future, as part of a comprehensive estate plan.
Sources:
leginfo.legislature.ca.gov/faces/codes_displaySection.xhtml?lawCode=PROB&sectionNum=4701.
www.disabilityrightsca.org/system/files/file-attachments/508801.pdf