Leaving And Accounting For Intellectual Property In Your Estate Plan Documents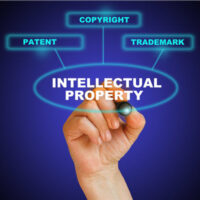 When we think about estate planning, we often think about our "tangible assets." This generally means our physical property, money, or the items that we can use, spend, or touch. But what about intangible assets, like intellectual property?
What is Intellectual Property?
Intellectual property is the general term for the things that we invent, or create. Whether the ideas have come to fruition, such as a product that has actually been invented, or they are just ideas that may at some point in the future come to be something real, intellectual property can have significant value.
Intellectual Property Can be Valuable – Even After You're Gone
You may have heard of people who profit and make revenue from the intellectual property left to them years ago by a deceased family member.
In fact, existing copyright law says that a copyright lasts for the life of the author plus 70 years. This means that if you own a copyright that could now or one day have value, it will continue to have value when you're gone and needs to be accounted for in your estate planning documents.
You May Need a Will or Trust
Transferring a physical item may not properly transfer the intellectual property rights in it. In other words, if you transfer a book that you wrote by will, that may not also transfer the intellectual property rights to the book or its contents. That means the new owner may not have the right to sell, distribute, or profit from, other copies of your book.
If you transfer intellectual property in your will or in a trust, your agent (executor under a will or successor trustee under a trust) would do things like make sure that the property is being properly registered (copyrights, trademarks and patents all have different rules on registration, renewals of registration, and other verifications that the property is being used, published or promoted).
Your agent will also have to notify government agencies that you have passed, and the rights in the intellectual property have passed to whoever you have designated.
Your agent also may need to enforce violations or infringement of the intellectual property, and perhaps work with licensing companies that assist in promoting the intellectual property, and collecting revenue from the property.
If your intellectual property is currently being licensed, your agent will also ensure that the licensing agreement provisions are being followed.
Call the Torrance estate planning attorneys at Samuel Ford Law today for help in managing and leaving your assets the way that you want to.