Inheritance Issues With Adopted Children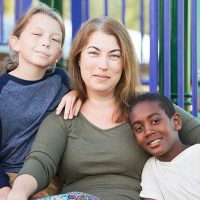 In California, adopted kids legally become the biological children of their legal parents for the purposes of estate planning, and inheritances. Of course, that also means that they lose any rights that they have legally to inherit from their biological parents (although biological parents can still leave property to their biological children through wills or trusts, if the biological parents choose to do so).
Why Adoption is Important
Adoption is vital in cases where someone dies without a will. In that case, California law says who will inherit what. This is called intestacy. However, although intestacy does treat adopted kids as biological kids, without an adoption, there is no inheritance for the non-adopted child.
Additionally, some assets may pass outside of probate, and may not even be listed in a will. For these assets, a non-adopted child could be left with nothing.
The same holds true for grandparents. If an adopted child has children, those children can inherit from their parent's adopted grandparents.
Adopting a child treats the child as if he or she is the biological brother or sister of any biological children the adopting parent may have. It does not exclude or harm the other biological children, other than perhaps, division of assets now will happen equally between the biological, and the adopted child or children.
Foreign Jurisdictions
Additionally, adoptions that may not be legally recognizable in California, will be recognized and considered legal, so long as they are legal where the adoption happened. This is normally only an issue when people move to California, having been adopted in other countries, where the ability to do an adoption is different than it is here. If someone was adopted in a different country, you may want to look closer at your estate documents, to make sure the adopted person is taken care of, in the event there is some legal issue with the foreign adoption.
Just as a biological child can be, an adopted child can also be excluded from a will or an inheritance as well.
Step Children
Remember that being a step child doesn't give you any automatic inheritance rights; it is not the same as an adoption. Step parents have to be legally adopted by the step parent. Otherwise, if this does not happen, and the step parent does without a will or other estate documents, the step child will inherit nothing, as intestacy statutes don't provide anything for step children.
All this doesn't mean that a non-biological child has to be adopted, in order to inherit. You can choose to leave whatever you want, to whomever you want, adopted child or not. Adoption is just a safe means to ensure that someone inherits the way a biological child would, in the event that there is no will, trust, or other estate document.
Every family is unique. We can help you plan for yours in your estate plan. Call the Torrance wills attorneys at Samuel Ford Law today.
Sources:
leginfo.legislature.ca.gov/faces/codes_displayText.xhtml?lawCode=PROB&division=6.&title=&part=2.&chapter=1.&article
lakeconews.com/news/58396-estate-planning-adoption-and-inheritance-rights