Don't Forget These Things If You Are A Trustee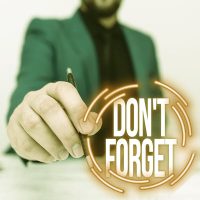 If you are creating an estate plan, there is no doubt that a vital part of that plan is the creation of trusts. There are no shortages of the kinds of trusts that you can use and there is surely a trust that can accomplish whatever your estate planning goals may be.
But there's one thing every trust needs to have: a trustee. We often talk about how to select a trustee for your trust—but what happens if you're the one selected to be a trustee? If that happens to you, it's important not to overlook these smaller things, which can be big problems if they are forgotten.
Renting Property – As trustee, you have a duty to maximize the value of the estate for the benefit of the beneficiaries of the trust. Have you determined who is living in property owned by the trust or property the deceased used to live in?
If the trust (or other estate document) says someone is allowed to live in property left in a will or trust, fine. But often, that doesn't happen.
If someone is living in property that is held by the trust, even if it is family, you as the trustee need to charge those people rent, unless there is an estate document or provision in the trust that says otherwise.
And if there are renters, you have the duties of a landlord (or else, you need to hire a professional landlord), and comply with all landlord tenant laws.
Successor trustees – If the trust names successor trustees, have you taken steps to ensure that he or she can take over your duties? Just like succession planning for a business—don't leave successor trustees in the dark about what is going on, or how to administer the trust. If something happens to you, you want to ensure the successor trustee can take over smoothly.
Business Management – As trustee, you have the obligation to make sure that a business left by the deceased, is running efficiently and profitably.
You don't have to become an expert CEO overnight. But you do have to hire or appoint people who can capably run the business. You also may have to read and review corporate documents, to see who gets any management positions, in the event multiple shareholders, family, managers, or relatives are all fighting over that position.
Finding Beneficiaries – Often, people will leave things in a trust to relatives or beneficiaries who have gone AWOL. Relatives or beneficiaries could be estranged, or not have contact with the deceased in many years. Working with whatever service you need, it is incumbent on you to find and notify these beneficiaries of their rights under the trust, or to give them notices about what is happening about matters in the estate.
Payments – Every payment needs to be arranged. Insurances, rents, mortgages, lease payments on cars or equipment—think of how many payments you make in your own life. Don't let these bills fall behind. Remember many companies will need copies of estate or trust documents, before they will even speak to you, much less, accept payments from you to keep these necessities from falling into default.
Have you been named as a trustee? If you have questions, we can help. Call the Torrance will and estate attorneys at Samuel Ford Law today.
Source:
cpajournal.com/2019/06/03/understanding-the-duties-of-a-trustee-in-administering-a-trust/