Common Estate Planning Mistakes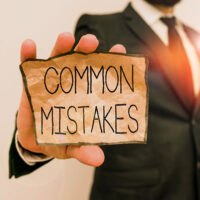 Planning your estate is easy, right? Go to a lawyer, draft a few documents, decide who gets what, and you're done. Well, it's actually not that easy, and in fact, many people make a number of mistakes when planning their estate. Here are some of the more common mistakes people make when making an estate plan.
Using Forms – Just go to the local office supply store, pick up a form will, fill it out and you're done! Well, not so fast. These forms are often not state specific, and that can mean that nuanced areas of your state's laws may be overlooked. This is especially true if you live in one state and have property in another, where now your estate has to account for two state's laws, and the form you're using accounts for neither.
Not Having (Naming) Multiple Beneficiaries – Sure, you want all your property to go to Aunt Betty. But what if Aunt Betty dies before you do? Do you have a backup beneficiary? Make sure you have backup beneficiaries named for your assets.
Failing to Amend Documents – Life changes. You get married, divorced, remarried. You marry another woman and informally adopt her kids. You never get legally married to a new spouse. The business you left for Aunt Betty that was an asset may be a liability in 10 years.
All this is fine—they're often your personal choices. But when it comes to estate planning, have all these changes been accounted for in your plan? Make sure you revisit your documents to make sure that they "match" what is currently going on in your life.
Health Care Documents – Everything in estate planning seems to be divided into when you're alive and when you're not. But often, we can be incapacitated—temporarily or permanently. Who will make decisions for you, medical and financial, if you cannot make them yourself? Healthcare documents or Powers of Attorney can account for times when your estate documents haven't kicked into effect, but you need to designate someone to make important life decisions for you.
Arrangements for Non-Humans – This is purely a personal choice. But if you want to leave money for animals or charities, don't leave them out of your estate documents. Additionally, some property may need money to be maintained, and that means money has to be set aside for that purpose. For example, there may need to be money allocated to account or sales costs of property, or to feed animals, or to pay off debts that you don't want heirs to be encumbered with.
Leaving Assets That Family Doesn't Want – Often, we leave property or business to kids or family members that they really don't want. We may leave a business to someone that has no desire to run it. Simple communication with potential beneficiaries – and planning financing to liquidate property and distribute assets, for property that is unwanted—can account for these situations.
Call the Torrance estate planning attorneys at Samuel Ford Law today for help. We can help you avoid the most common estate planning errors.