What Is A Letter Of Last Instruction?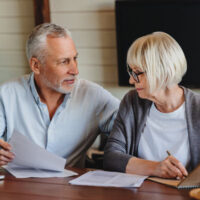 Among all the documents that we routinely talk about when it comes to estate planning, something called a Letter of Last Instruction doesn't get a lot of attention. But this letter (which isn't actually sent to anyone, but should instead be kept with a single family member and your estate attorney) can help "fill in the blanks" for some things that your other estate documents may not fully cover.
What is a Letter of Last Instruction?
Estate documents can tell family where your assets go, who gets them, or how they should be distributed or administered.
But there are often other details, which require instructions, and estate documents often aren't there to give detailed instructions, nor do they often give family the necessary information they need to actually carry out what is in your estate documents.
That's where a letter of instruction comes in. This is a letter that can make your loved ones' jobs easier, and which can make sure that your estate documents are carried out smoothly.
What's Included in the Letter?
Among the things that might go into a typical letter of instruction, include:
Contact Information: This is a list of contacts that you want to be notified of your passing. Often, your family may not know your business associates. Your wife may not have the contact information for your distant uncle in Idaho. You may just have a friend that you want to know about your passing. This letter provides a full contact list of these individuals.
This also can include business or insurance contact information, with insurance policies, financial advisors, attorneys, or anybody else that your family may need to inform about your passing.
Location:  Administering your estate takes documents. Where are those documents? Your letter can tell your family what is hidden in the safe, what is hidden under the bed, or who has the title to your vehicles. This also includes locating any cash that you may have hidden around the house.
Debts: This is a list of people or entities that you may owe money to, as well as a list of people who owe money to you. As creditors have a time limit to make a claim on your estate, you may also want to make sure this list goes to your estate attorney as well.
Arrangements: If there are specific funeral arrangements that you want to make—including anybody you specifically want to invite or disinvite—this list can provide guidance to your family.
Note that this letter is not a replacement for a will, or a trust. It should not say "tell my aunt she is getting nothing from my bank account," as that kind of thing is for your will.  And, because you may have to locate some of the information that will go into the letter, you may want to start early in drafting it with your attorney.
Call the Torrance estate planning attorneys at Samuel Ford Law today to make sure your estate plan has everything that it needs in it to help your family.
Sources:
edis.ifas.ufl.edu/publication/FY537
extension.uidaho.edu/publishing/pdf/CIS/CIS0958.pdf