What Is A Holographic Will And Is It Legal In California?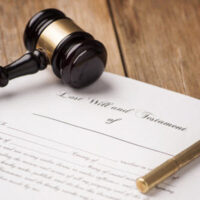 Requirements of a formal Will.
In normal cases, wills have a lot of requirements. For example the person making the will—the testator—needs to sign, as do two witnesses. Both witnesses must be present at the same time, and must personally witness either the signing of the will or the testator's acknowledgment of the signature or of the will.
But what if all those requirements aren't met? Can someone just write up a will for themselves, sign it, and give the will some validity? Sometimes, they can. This is called a holographic will, and California does recognize these kinds of documents.
Holographic Wills
California law says that a holographic will is valid and enforceable so long as the material provisions of the will and the signature are in the handwriting of the testator.  That is it. There is no requirement for witnesses, acknowledgements, or other formalities. A holographic will also doesn't even need to be dated!  (I would not recommend omitting a date though)
A holographic serves the same function as a formal typewritten will, naming executors and determining which assets go to which beneficiary, among other things.
Challenges to Holographic Wills
Holographic wills are far more open to a validity challenge than wills meeting the formal will signing requirements. A holographic will needs to establish by some evidence that it is actually written in the handwriting of the testator. If a date is not present, then any inconsistency between the holographic will and the provisions of another dated are decided in favor of the dated will.
Holographic wills are only exempt from the signing requirements of a formal will. They are not exempt from other requirements, such as testamentary capacity to execute a will. Everyone who makes any kind of will must have testamentary capacity at the time they sign their will. The same is true of a holographic will, however, for holographic wills without a date, it can be harder to establish that the testator had the necessary capacity to sign. If the testator signed a holographic will without a date, but then later developed dementia or Alzheimer's, the will may not survive a challenge, as there would be no way of knowing if the testator made the will at a time when they were mentally competent to do so.
Holographic Wills Should be a Last Resort
Courts do favor finding holographic wills enforceable. But that doesn't mean they are a good idea, and they should only be used where, for some reason, the formalities of a properly executed will cannot be followed. This is especially true where the will contains provisions that may be controversial, or subject to challenges, such as where a family member may be disinherited, or where there is conflict amongst family members.
Do you have questions about your estate, or about making sure that your family is taken care of in the long term? Call the Torrance estate planning attorneys at Samuel Ford Law for help and to answer your questions.