Disclaiming Or Refusing An Inheritance: Why Do It And How Do You Do It?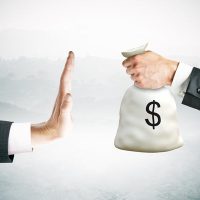 If you stand to get an inheritance, that is, most of the time, good news. And if you are creating an estate plan, you would imagine that whomever you leave your property or assets to, would want that property. But sometimes that isn't the case.
There are times where getting an inheritance isn't a good thing, or when the recipient of the inheritance doesn't want what is being inherited. When that happens, the beneficiary may want to consider disclaiming that inheritance.
WHat Happens When Assets are Disclaimed?
To disclaim an inheritance you have to be entitled to receive it in the first place, whether through an estate document or through the intestate process.
If you do disclaim an inheritance, it will go to other designated beneficiaries, although most people who make estate plans don't plan on someone refusing an inheritance, and thus, the property that is disclaimed often has to pass through the intestate process.
Note that disclaimer means you are giving up the inheritance, and the right to choose who gets it instead of you. You can't disclaim an inheritance because you want your child to get it. You don't have control over that, once the property is disclaimed. If you want that choice, you would have to accept the inheritance, and then transfer the assets to whomever you may choose afterwards.
When is Property Disclaimed?
There is no law that says when someone can or cannot refuse to take an inheritance. Some common reasons why an inheritance may be disclaimed include:
The inheritance could jeopardize government or need-based programs
Taking the inheritance would cause tax problems for you, including affecting your income tax bracket, or it would increase taxes for your own estate
The inheritance would come with conditions you don't want—for example, an inheritance that requires that you take care of the deceased's pet, and you don't want to do that, or inheriting a house that you are not allowed to sell under the will or trust's terms, and you don't want the financial obligation of keeping and maintaining the home
You are contemplating divorce or bankruptcy, and feel that the assets could be lost in one of these processes anyway
With physical property, you don't want, need, or have room for, whatever is being inherited—including property that has a cost (for example, inheriting horses comes with the expenses of housing and feeding them)
The Disclaiming Process
With adults, you have nine months to disclaim an inheritance (minors get longer, usually after they reach the age of majority). The disclaimer must be in writing, and there must be no other way for you to get the assets.
For example, you couldn't disclaim money left to you in a will that is in a bank account, knowing there is still a payable on death provision that makes you the beneficiary of that same money.
Call the Torrance will and estate attorneys at Samuel Ford Law today for questions about how to disclaim property, or what will happen when you inherit property from a will or a trust.
Sources:
smartasset.com/financial-advisor/disclaim-inheritance
trustandwill.com/learn/reasons-to-disclaim-an-inheritance